Carlo's Copa Room
from Carlo's Copa Room
Linguini Tomato Basil With Salmon Patties
Posted: 12/1/2009
INGREDIENTS:

Salmon patties:
4 ounces fresh, uncooked salmon fillet, broken into pieces
2 tablespoons melted butter
1 egg, whisked
2 tablespoons red and yellow bell peppers, chopped
1 tablespoons red onion, chopped
1 tablespoon celery, chopped
¼ cup Italian seasoned bread crumbs
2 pinches salt
3 pinches black pepper
Juice of ½ of lemon
1 Tbsp chopped basil

Linguini Tomato Basil:
1 cup linguini
½ cup butter
¼ cup olive oil
½ cup tomato, chopped
¼ tablespoon parsley, chopped
½ tablespoon basil, chopped
½ tablespoon Romano cheese
½ tablespoon white wine
¼ tablespoon garlic, minced

Serves 1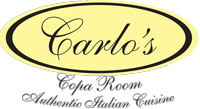 INSTRUCTIONS:

Salmon patties: Mix all ingredients together in a bowl. Form into two small patties, and then fry in ¼ (to ½) cup olive oil over medium to medium-low heat. Allow to turn golden brown on one side, flip, and fry until golden on second side, for total of about 10-15 minutes.
Linguini tomato basil: In skillet, sauté garlic, parsley, and tomatoes in olive oil, butter, and wine over medium heat until it bubbles, and then add cheese and basil. Toss in linguini. Serve with salmon patties on top.
Cook Time: