Gaslight Grill
from Gaslight Grill
Seared Scallops
Posted: 04/1/2010
INGREDIENTS:

Makes 1 serving
3 u10 size sea scallops
1 ounce sautéed fresh spinach
1 ounce corn mousse
½ ounce red pepper coulis
½ ounce basil olive oil
3 small pieces of oven-dried pancetta
Corn Mousse:
2 cups of heavy cream
3 cups of super sweet corn
½ teaspoon of salt
½ teaspoon of white pepper
1 oz of fresh spinach
Red Pepper Coulis:
3 ounces of roasted red pepper
3 ounces of mayonnaise
Basil Olive Oil:
3 ounces basil, chopped
2 ounces olive oil
Blend until liquid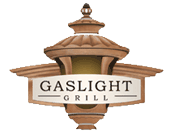 INSTRUCTIONS:

Scallops: Heat 1 tablespoon of oil in sauté pan and then place seasoned scallops in pan, flat side down. Continue to cook until you can see the scallop start to form a nice brown crust, flip the scallop and allow it to cook for 30 seconds to one minute, depending on size. Turn off heat and let scallops rest keeping them warm but not hot.
Red Pepper Coulis: Puree ingredients in blender, add salt and pepper to taste and set aside.
Corn Mousse: Place the corn and cream in a pan and set over a low heat, and then cook to reduce by half. Puree the mix in a blender, for five minutes.
Spinach: Preheat pan and add 2 teaspoons of olive oil. Place spinach in the pan and sauté for 1 minute.

Assembly: Make one nice straight line with red pepper coulis and in front make one straight line of basil olive oil. Squeeze any extra oil or moisture off of spinach and place 3 small piles in a row with space in-between. Place a small amount of corn mousse on top of each pile of spinach.
With a paring knife cut small slits in top of scallops and put small pieces of pancetta into each scallop. Place scallops on top of corn mousse and serve.
COOKING & PREP TIME: Approximately 20 min.

Cook Time: