Pablo Munoz-Sevilla
from Tannin Wine Bar and Kitchen
Braised Pork Belly
Posted: 03/9/2017
INGREDIENTS:

Serves 1
1 ea. Pork Belly, Unskinned
3 ea. Carrots, cut in half long ways
1 ea. Red Onion, cut in half
1 ea. Ginger, cut in half long ways
½ ea. Pineapple, peel and rough chop
1 head Garlic
3 ea. Bay leaves
2 ea. Oranges, juiced
3 qt. Pork Stock
Ancho chili, ground
Salt & Pepper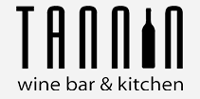 INSTRUCTIONS:

Preheat oven to 350°. Place carrots, onion and ginger on a grill and char. Rub the raw pork belly generously with Ancho chili, Salt & pepper to taste. Add all ingredients in a full pan and cover with foil. Place in oven to cook for 2 ½ hours, check the belly by stabbing with a paring knife, if knife comes out with little resistance belly is done. Allow the belly to cool in its own liquid before pulling out and cutting. Once cool, deep fry or pan fry until crisp up each side. Enjoy!!
Cook Time: 2.5 hours