Prime Rib Grill by Hereford House
from Prime Rib Grill by Hereford House
Goat Cheesestuffed Artichokes
Posted: 05/1/2010
INGREDIENTS:

Makes 2 servings
2 stem-on trimmed artichokes, cleaned and peeled
4 ounces (approximately) Montrachet goat cheese (or other goat cheese)
4 cups Corn Flakes, finely crushed
buttermilk egg wash, as needed (egg wash is 1 egg per 2 cups of buttermilk)
seasoned flour (2 cups flour, ½ teaspoon salt, ¼ teaspoon white pepper)
Yellow Tomato Coulis:
Olive oil as needed
1 shallot, chopped
1 clove garlic, chopped
1 small yellow pepper, diced
2 yellow tomatoes, diced (red tomatoes can be substituted for the yellow, if not available)
6 ounces chicken stock
salt and white pepper to taste
1 bay leaf
1 tablespoon red wine vinegar
Balsamic Glaze:
4 ounces balsamic vinegar
1 tablespoon corn syrup
Red Pepper Puree:
1 large red pepper, fire-roasted
1 clove garlic, roasted
1 teaspoon white wine vinegar
sliced almonds, toasted
whole chives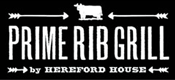 INSTRUCTIONS:

Artichokes: Stuff each artichoke with 2 ounces goat cheese. Gently smash the head into palm to cause the head to blossom. Coat artichokes with seasoned flour, which will help the egg wash stick to the artichoke. Dip into egg wash and then into crushed Corn Flakes. Coat thoroughly and then set aside for later.
Yellow Tomato Coulis: In saucepan sauté the first four ingredients until tender. Then add remaining ingredients and simmer until reduced by half and sauce becomes thick. Pull out bay leaf and puree the remaining ingredients. Then strain through a china cap (a pasta strainer with slightly larger holes) and add 2 tablespoons butter.
Balsamic Glaze: Combine ingredients and bring to a simmer. Reduce by half and then cool.
Red Pepper Puree: Roast the pepper over an open flame until tender, about 5-6 minutes. Add garlic and vinegar with pepper, then puree. Strain through a china cap.
Assembly: Fry artichokes at 350 degrees until golden brown. Ladle yellow tomato coulis in bowl and crisscross artichokes on top of one another. Place sliced almonds atop the artichokes. Garnish plate with balsamic and red pepper puree. Finish plate with chives and enjoy.
PREP & COOKING TIME: Approximately 1 hour
Cook Time: