Chaz on the Plaza
from Chaz on the Plaza
Pan-seared Halibut With Savory Lemon Curd, Roasted Striped Beet Puree, Fingerling Potato, Leek & And Fennel Hash...
Posted: 06/1/2010
INGREDIENTS:

PAN-SEARED HALIBUT WITH SAVORY LEMON CURD, ROASTED STRIPED BEET PUREE, FINGERLING POTATO, LEEK & AND FENNEL HASH, AND HEIRLOOM AND HERB SALAD


Makes 2 servings

Halibut:

2, 6-ounce pieces halibut
salt and pepper
1.5 ounces clarified butter
Roasted Beet Puree:
4 candy-striped beets
2 teaspoons champagne vinegar
4 tablespoons olive oil
salt and pepper to taste
Savory Lemon Curd:
3 ounces fresh squeezed lemon juice
3 egg yolks
2 tablespoons Missouri honey
1 tablespoon chopped thyme
salt/pepper
Heirloom and Herb Salad:
2-ounce heirloom tomato
Touch of fresh orange juice
Herb mix-1 teaspoon, each, of chopped thyme, basil, oregano and rosemary
Touch of olive oil
Salt

Fingerling Hash:
6 ounces fingerling potatoes, cut on the bias
4 ounces fennel, chopped fennel
4 ounces leeks, chopped
1 teaspoon garlic/shallots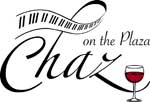 INSTRUCTIONS:

Halibut: Heat sauté pan, season both sides of halibut with salt and pepper, add clarified butter. Place presentation side down and sear until golden brown. Flip and cook until golden brown.
Roasted Beet Puree: Slice beets in half and season with salt and pepper. Place cut side down and bake in 325-degree oven. Cook for 20 min or until soft. Peel and place in blender with remaining ingredients. Puree until smooth, taste, and season accordingly.
Savory Lemon Curd: Heat lemon juice and honey together. Slowly temper in egg yolks (slowly add hot liquid to eggs while whisking, so not to scramble the eggs.) Put back on heat and constantly stir until curd-like consistency. Add in thyme, salt, and pepper. Taste and adjust season accordingly.
Heirloom and Herb Salad: Mix all ingredients together, taste and adjust seasoning accordingly.
Fingerling Hash: Place fingerlings, shallots and garlic on sheet pan with 2 ounces oil, and roast for 20 minutes. Heat sauté pan, add clarified butter, sauté leeks and fennel, add in potatoes and cook until re-heated and season.
PREP & COOKING TIME: Approximately 1 hour
Cook Time: