Em Chamas Brazilian Grill
from Em Chamas Brazilian Grill
Artichoke Salad
Posted: 11/1/2010
INGREDIENTS:

Makes 2 large servings
2.5 cups artichoke hearts, quartered.
½ cup red onion, thinly sliced.
3 tablespoons fresh cilantro leaves.
1 tomato cut in wedges
¼ cup Italian dressing (your choice)
Salt and pepper to taste.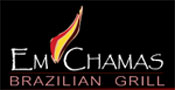 INSTRUCTIONS:

Arrange tomato wedges in a crown shape on the serving plate. Add remaining ingredients to a mixing bowl, saving cilantro for last. Mix ingredients gently and place in center of tomato crown. Sprinkle cilantro over the top and enjoy this fresh and vibrant salad. Grilled seafood makes a wonderful addition.
Cook Time: 20 minutes (prep. time)