Chef Jarid Ward
from Em Chamas Brazilian Grill
Mussels In Brazilian Vinaigrette Recipe
Posted: 11/1/2012
INGREDIENTS:

2 red bell pepper, small dice
2 green bell pepper, small dice
2 red onion, small dice
2 tablespoons hot sauce of choice
2 tablespoons white wine vinegar
2 tablespoons red wine vinegar
2 tablespoons water
2 tablespoons sugar
2 tablespoons lime juice
2 tablespoons lemon juice

4 pounds mussels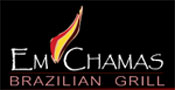 INSTRUCTIONS:

Dice vegetables. Mix well with remaining ingredients in a large bowl except mussels. Set aside.

Scrub mussels and remove any sand, grit, or debris. Discard mussels with shells open. Steam mussels in a large covered pot with ½ cup each of water and white wine over high heat. Steam for 5-10 minutes until mussels open. Remove mussels from broth and place in serving bowl or platter, discarding any unopened mussels. Add vinaigrette onto mussels to taste. Season with salt to taste.

Vinaigrette can also be used for salad or served as a dressing for meats and vegetables.
Cook Time: