Blanc Burgers
from Blanc Burgers + Bottles
Crab Stuffed Burger
Posted: 05/1/2013
INGREDIENTS:

Crab Stuffed Burger:
Serves 4
2oz. crab meat
32oz. Ground beef, pattied into 8 - 4oz patties.
1 package Onion Buns
2c. Uncooked Pasta (preferably Macaroni). Prepare pasta per package directions.
Truffle Aioli:
2 egg yolks
½ tsp. chopped garlic
1 tbsp. white truffle oil
1 cup canola oil
¼ cup mayo
¼ cup salt
Pasta Sauce:
1 ½ cups smoked Gouda Cheese
2 cups of whole milk
Combine cheese & milk; bring to a simmer, then puree.
Mix pasta sauce with 2 cups of cooked pasta. Add in 2 oz. of crab meat.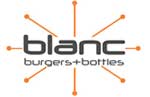 INSTRUCTIONS:

Combine egg yolk, garlic, salt and pepper in food processor. Slowly pour oils into food processor to form emulsification. Lastly, combine with the mayo.
Sandwich 2 oz. of the pasta mix in between two 4 oz. patties and press the edges to form a good seal. Grill to desired temperature. Toast an Onion bun; apply a thin coat of the truffle aioli to the top and bottom of the bun. Place the stuffed patty on the burger, and top with leaf lettuce. Enjoy.
Cook Time: