Justin Hoffman
from The Broadmoor Bistro
Autumn Crimson Pear Salad
Posted: 12/4/2013
INGREDIENTS:

4 each Medium Bartlett Pears (peeled and cored with apple spinner)
1 cup Spiced Zinfandel Brine
4 tbsp. Smoked Blue Cheese (crumbled)
1 cup Baby Arugula (picked and cleaned)
1 oz. Cinnamon Pear Vinaigrette
1 oz. Toasted Pine Nuts (place on pie tin in preheated oven @ 375º for 5-7 min or until golden brown)
Spiced Pear Brine: Yield: 2 cups
1 cup Zinfandel
½ cup Grenadine
½ cup Granulated Sugar
1 each Cinnamon Stick
½ tsp. Whole Black Peppercorns
Place these ingredients into a sauce pot and bring to a simmer
Cinnamon Pear Vinaigrette: Yield: 8 oz.
5 oz. Tasteful Olive Sage Olive Oil
3 oz. Tasteful Olive Cinnamon Pear Balsamic Vinegar
½ tsp. Fresh Garlic (minced)
½ tsp. Shallot (minced)
½ tsp. Fresh Sage Leaf (minced)
To taste Sea Salt
To taste Black Peppercorns (freshly ground)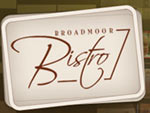 INSTRUCTIONS:

-Place Vinegar, Garlic, Shallot, and Sage in a blender. Turn on medium speed.
-Slowly drizzle in the oil until all is emulsified with the other ingredients.
-Season with Salt and Pepper.
-Reserve for plating.
Final procedure:
-Place Pears in spiced Zinfandel Brine, bring to a boil and take off the heat, chill, and reserve for plating presentation.
-Place Arugula and Smoked Blue Cheese crumbles in a small bowl and lightly toss with the vinaigrette.
-Remove Pear from Brine, dry with a paper towel, and place on plate.
-Place, lightly tossed arugula, on each side of pears.
-Garnish with toasted Pine Nuts.
Cook Time: