Savannah style crab cake, poached farm egg, dijon sauce, pea greens
from Chaz on the Plaza
Savannah Style Crab Cake, Poached Farm Egg, Dijon Sauce, Pea Greens
Posted: 10/2/2014
INGREDIENTS:

Crab cakes
2 cans millers jumbo lump crab meat, drained
1 cup crushed saltines
¾ cup mayonnaise
2 eggs
2 tbls red onion, small dice
1 tbls chives, chopped
1 tspn salt
Pinch of black pepper
6 eggs
Dijon sauce
4 egg yolks
1 tablespoon freshly squeezed lemon juice
1/2 cup clarified butter
1 tbls whole grain Dijon
Pinch salt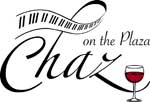 INSTRUCTIONS:

Crab Cakes
Combine all ingredients and mix thoroughly, form six cakes and deep fry or pan sear. Poach the eggs in simmering water until the whites are cooked and the yolk is still runny, approximately 3 minutes. Place the egg on top of the cooked crab cake and dress with the Dijon sauce, finish with pea tendrils or baby arugula.
Dijion Sauce
Vigorously whisk the egg yolks and lemon juice together in a stainless steel bowl and until the mixture is thickened and doubled in volume. Place the bowl over a saucepan containing barely simmering water (or use a double boiler , the water should not touch the bottom of the bowl. Continue to whisk rapidly. Be careful not to let the eggs get too hot or they will scramble. Slowly drizzle in the butter and continue to whisk until the sauce is thickened and doubled in volume. Remove from heat, whisk in the mustard and salt. Cover and place in a warm spot until ready to use for the crab cake. If the sauce gets too thick, whisk in a few drops of warm water before serving.
Cook Time: