Guy Tamburello
from Cafe Italia
Linguini Michelangelo
Posted: 01/9/2015
INGREDIENTS:

12 Pealed & deveined shrimp
3 oz. sliced Capo cola
2 oz. sliced prosciutto
1 c. sliced mushrooms
Extra virgin olive oil
1 tbsp. chopped fresh garlic
Linguini pasta
Salt
Black pepper
¼ c. chopped fresh parsley
½ c. Pecorino Romano Cheese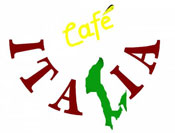 INSTRUCTIONS:

Boil the pasta until al dente.
In a skillet sauté the garlic, mushrooms, Capo cola, prosciutto, black pepper and olive oil until the garlic begins to brown. Add the cooked pasta to the skillet with ¼ cup water and sauté for approximately 1 minute. Sprinkle the Romano cheese and chopped parsley on the pasta and Serve immediately.
Bona Appetito
Cook Time: