Chris Carle
from Coach's Bar & Grill
Yankee Pot Roast
Posted: 03/2/2016
INGREDIENTS:

2 Tbsp. olive oil
1 (3-lb.) boneless chuck roast, trimmed
1 tsp. kosher salt
1/4 tsp. freshly ground black pepper
2 c. coarsely chopped onion
1 c. dry red wine
4 thyme sprigs
1 rosemary sprig
3 garlic cloves, chopped
2 c. low salt beef stock
1 bay leaf
4 large carrots, peeled and cut diagonally into 1-inch pieces
2 lbs. red potatoes, peeled and cut into 2-inch pieces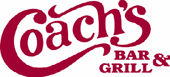 INSTRUCTIONS:

Preheat oven to 350º
Heat olive oil in a large Dutch oven over medium-high heat. Sprinkle chuck roast with salt and pepper. Add roast to pan; cook 5 minutes, turning to brown on all sides. Remove roast from pan. Add onion and garlic to pan; sauté 8 minutes or until tender.
Return browned roast to pan. Add the red wine, thyme sprigs, rosemary, beef stock, and bay leaf to pan; bring to a simmer. Cover pan and bake at 350° for 1 1/2 hours or until the roast is almost tender.
Add carrots and potatoes to pan. Cover and bake an additional 1 hour or until vegetables are tender. Remove thyme sprigs, rosemary sprig, and bay leaf from pan; discard. S Serve roast with vegetable mixture and cooking liquid and some crusty bread. Garnish with thyme leaves, if desired.
Cook Time: 1 1/2 hours