Pablo Munoz-Sevilla
from Tannin Wine Bar and Kitchen
Posted: 03/9/2017
Good kitchens function well with strong management and people skills; but great kitchens and great restaurants thrive on Top Chefs who have a passion for food, a concern for what the guests want, and know how to mesh all that together with a touch of creativity. We see that in the one of the newest young culinary guns to join the team at Tannin WIne Bar + Kitchen, Chef Pablo Munoz-Sevilla. He took over as Exec Chef last Fall but is no stranger to either the hard work or the thoughtful preparation required to get a kitchen running smoothly and the guests coming back.
Filling the shoes of Brian Aaron is no mean feat; but Chef Pablo has great credentials starting with the Culinary Arts Program at Shawnee Mission High School; followed up with a series of apprenticeship jobs learning the business from the ground up [dishwasher, busboy, server, prep cook, sous chef] in two big corporate operations while pursuing further training in the culinary program at the Art Institute International - Kansas City. And then came 3 years climbing the ladder at Justus Drug Store, one of our area's mist distinguished eateries. He says he knew he had a passion for food, but that "all these experiences and the mentoring of Chefs Bob Brassard [Broadmoor Bistro], Jessica Rush [AII-KC], and Jonathon Justus provided the balance of foundational techniques and unleashed my creativity."
After some culinary adventures in Colorado and California, he found himself called back to KC to interview for and land the job of Executive Chef at Tannin. He sees "many challenges/opportunities" in his new job. "The restaurant is in transition, grappling with the rapid growth of the Crossroad area with both new residents and businesses all around, and many younger diners with different tastes. So that requires addressing menu changes, leveraging the potential lunch business opportunity, and capitalizing on the wine bar and restaurant concept." He's enthusiastic about working with the whole Tannin team to engage in all these hard tasks; but his approach is humble. He says: "I am young and still have much to learn; and I am grateful and find courage in having such good people to work with here at Tannin, that care so much about the food and take pride in their work."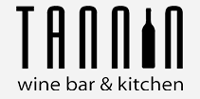 We asked Chef about where his interest in cooking began and he told us that his mother, who he described as "maybe not the best cook", taught him the value of preparing "thoughtful meals" - "food that taps into human needs and emotions. You provide a service in cooking." While the new menu at Tannin is still morphing into something that is totally his own, Pablo says that Tannin's signature items, like the "Executive Burger" and the "Chocolate Peanut Butter Cookies" will remain. His favorite items on the menu right now are the "Pork Belly," the "Crab Dip," and the "Lamb Meatballs." We are very confident that everything coming out of his kitchen will fully embody that thoughtful, service attitude.
In our discussions we also touched on what he thought it was important for new [and old] guests to know about Tannin. Without hesitation he told us: "Most definitely it is the seriousness of how the staff prepares for and carries out their jobs. I am super impressed at how much effort bartenders and servers educate themselves about both the food and the wine. The kitchen team is just as dedicated to that."
Tannin's reputation for great wines is well known; but guests will also get a superb introduction to Chef Pablo's passion for and creativity with food if they take advantage of the upcoming Field Recordings Wine Dinner on March 14th. Check the "News" section of their website [ tanninwinebar.com ] for menu, wine pairings, and price. It looks fantastic and the future looks bright for Tannin with Chef Pablo in charge. His enthusiastic last words: "More to come - it only gets better from here!"