Phil Bourne
from Waldo Pizza
Posted: 08/31/2011
Phil Bourne, owner of Waldo Pizza since 1993, has a sly sense of humor. For instance, just look for the 1985 World Series pennant on display in the establishment. It's a misprint that shows the St. Louis Cardinals as the world champions instead of the Kansas City Royals. Wink, wink. Bourne, born and raised in St. Louis, has added other hometown influences to this beloved pizza parlor.

"I've tweaked recipes, added menu items and redecorated a little to better exhibit my personality," says Bourne, who operates locations in Waldo and Lee's Summit.
Kansas City pizza lovers will find St. Louis staples such as thin crust pizza, Ted Drewes frozen custard and toasted ravioli "that's toasted not fried." Bourne explains that the insalata on the menu is similar to the salad diners can find around The Hill, a St. Louis neighborhood known for its Italian restaurants.
The customer's tastes matter deeply to Bourne. That's why he designed the menu to ensure that they can tailor a pizza pie to their liking. Beyond the four house specialties – combo, veggie, meat lover's choice cut and Tex-Mex – guests can order from three different crusts and a few dozen toppings to create a personal masterpiece.
When customers started bringing in gluten-free pizza crusts to meet their dietary needs, Bourne added a version made by local baker Olivia's Oven as an option. Not surprisingly, families have expressed deep appreciation for his attention to their needs. Similarly, his restaurant has attracted a vegan following by developing a menu based on their dining preferences. Waldo Pizza also serves a fine selection of sandwiches, starters, salads, pasta and desserts such as the St. Louis fave gooey butter cake.
The beer selection purposely includes a wide variety of craft and limited edition brews that have an interesting flavor or origin. Bourne selects a smaller roster of affordable wines that deliver pleasing flavor and great value, appealing to guests that don't want to break the bank in a pizza restaurant.
The spacious Tap Room adjacent to the main restaurant is a popular place for local beer aficionados. It's also a convenient spot for special events. Waldo Pizza caters and delivers as well when dining in the restaurant is not an option.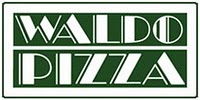 Bourne's constant presence at Waldo Pizza reassures customers that he cares about consistent quality and customer service. Maintaining an experienced veteran staff also helps to please regulars from business customers at lunch to families dining at day's end. He envisions his restaurant as a "third place" besides work and home where people can gather and relax regularly.
"I grew up having a meal at the same time. Having a social place with a family atmosphere, it's a big part of my philosophy," says Bourne, reminiscing about the values important to him. He applies this community-oriented feel to Waldo Pizza. "It's a place where people can enjoy each other's company and eat good food."
From the music to the decor, from the menu to the ambiance, Waldo Pizza is a Kansas City institution with a dash of St. Louis flavor. "I share things that I enjoy - humor, food, and drink - that I hope people like," says Bourne, who still eats pizza every day. "I want them to come back and tell their friends."