Broadmoor Technical Center
from The Broadmoor Bistro
Posted: 03/1/2012
Tomorrow's culinary professionals are acquiring hands-on training and practical job skills today at The Broadmoor Bistro, a student-run skills application by the students at Broadmoor Technical Center in the Shawnee Mission School District.

Since fall 2000, the bistro has offered dining events created and served by culinary arts students enrolled at Broadmoor Technical Center. Students enrolled in the year-long program log 1,000 hours of industry experience as they learn culinary arts and commercial baking. They apply and refine those skills by creating menus, preparing, serving, and operating The Broadmoor Bistro.

Currently, guests can make weekly dinner reservations for Wednesdays at www.broadmoorbistro.org for a four-course meal ($25/person). The fine dining menu varies each season. Guests are seated in a sophisticated contemporary dining setting.

"The reservation system simulates the pace and operations of a restaurant," says instructor Chef Bob Brassard. "Students work through a dinner rush that helps them learn whether or not they are prepared. The students receive honest feedback and learn life skills. We provide realism in an educational setting."
Broadmoor's culinary and commercial baking programs are one of the top educational secondary programs in the country. The program has produced from one to five national finalists in national culinary competitions annually for seven consecutive years. In that time span, Brassard has guided his students in local and national culinary competitions enabling them to earn over 1.6 million dollars in scholarship monies.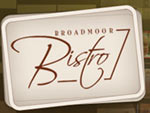 Culinary Collaboration
Kansas City Originals has partnered with Broadmoor Bistro in recent years to provide financial support, guest chefs, and advisers to the students.
The local restaurant organization has organized fundraising events like the Urban Picnic to provide financial support to Broadmoor's program.

Chef McClure, former owner of Starker's Restaurant and KC Originals member, established The Cliff Bath Scholarship for Excellence in Restaurant Hospitality to honor the memory of Clifford Bath, founder of Starker's. The $5,000 scholarship is awarded annually to one Broadmoor Technical Center Culinary Arts senior for the purpose of seeking post-secondary culinary arts education.
The partnership between the two organizations benefits both students and the culinary industry. Students learn from local mentors and those visiting from other cities such as James Beard Award winner Chef Tom Condron of The Liberty gastropub in Charlotte, North Carolina. As a result, students make contact with potential future employers. Many graduating students find apprenticeships and job opportunities in top-notch restaurants, hotels, and hospitality businesses around the country.

In turn, chefs and restaurant owners familiar with Broadmoor's program can draw from a pool of trained young talent. Bluestem's current Chef de Cuisine Joe West is a Broadmoor Technical Center graduate. He brings fresh energy and sharp skills to the restaurant.
"We have a commitment to the community," says Brassard. "These students are the future of our industry. KC Originals has demonstrated a commitment to excellence by giving opportunities for students."
Broadmoor Bistro, in partnership with KC Originals, is a chance to get a taste of what's cooking in the community.