Michael Hall
from Gaslight Grill
Posted: 05/3/2017
Just about 3 years ago we profiled Michael Hall, then sous chef at Gaslight Grill and a few months later he was bumped up into the Executive Chef position. Seemed like we needed to catch up with him and see how being the top dog at one of area's classic steakhouse venues is working out for this creative and energetic culinary craftsman who learned it all "on the job." It appears he is doing just great - "more like excellent!"
There is a great deal going on at Gaslight Grill these days. The recent passing of owner Dick Hawk has left a void to be sure Chef Hall tells us; but "the staff has pulled together and has been doing a great job of making sure that the quality of the guest experience remains world class." He tells us that the commitment to the best steaks and seafood is unflagging and that since our last interview they have "beefed up" the steak program with offerings of Wagyu, dry-aged certified Angus, as well as "natural" [no antibiotics or hormones] steaks. In addition, they are also flying in seafood fresh [not frozen] direct from Hawaii every day. When you add to that the award-winning Happy Hour food and beverage program [435 Magazine 2016] and live Jazz 5 nights a week [Wed-Sun] it's understandable why they are such a popular venue in south Overland Park.
It's hard to see how Chef can fit much more into his busy schedule but he seems to relish the hectic schedule. When we spoke he had just wrapped up one of their quarterly wine events [this one a "Taste of Italy" with appetizers and numerous Italian wines]. They have regular Sunday brunches, but the holiday brunches, like Easter and the upcoming Mothers Day [May 14] extravaganzas are exceptionally sumptuous and value priced [$32 adults/$16 children under 12]. Chef thinks that the abundant dessert buffet created by Gaslight's in house pastry chef is worth the price all by itself. If you want to be in the know on upcoming wine events and more, he suggests that you visit the website [www.gaslightgrill.com] and join their email list.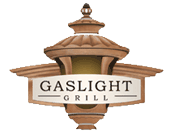 As we noted before, Chef Michael barely looks old enough to be such an experienced hand in a high volume professional kitchen; although he is showing some of the marks of his demanding position and its many challenges. Yet he maintains his enthusiasm and is re-energized by time with his family - a devoted husband and father of three, at least one of which is planning a culinary career "like dad." And when there is extra free time, his is a Royals fan and heads to one of their games or another sporting event. He admits his guilty food pleasure is "pizza" but he also likes to check out the local competition as well and sample the fare at other steakhouses around town.
We discussed other challenges he has encountered and Chef shared that being creative and original with steakhouse fare can strain the brain; but at the same time it is exhilarating to hit upon unique combinations or presentations. One item, which he plans to showcase in an up-coming KC Live [channel 41] appearance is an appetizer of "Beef Tenderloin Escargot Style." We had to agree that bite-size tidbits of beef filet sautéed in butter and garlic had us salivating. He also mentioned that incorporating food trends [farm to table, locally sourced, etc] can also be a little more challenging in a steakhouse setting; but Gaslight is working diligently on those things as well.
As a final word he acknowledged that "Gaslight has so much to offer" that it's difficult to pick one thing to highlight. Perhaps that is the key to it's success - the venue has something for everyone. You can choose your atmosphere [formal dining, private dining, patio, lounge], and the dining style [brunches, happy hour, ala carte] and enjoy live jazz as well. Pair all that with Chef Hall's inspired menus and one can't help but be satisfied!