Julian Viso
from Mio an Italian trattoria
Posted: 04/2/2014
Venezuelan born Chef / Owner Julian Viso came to the states in 1985 to finish his master's degree in Veterinary Medicine. It was there that Chef Julian got his culinary start in the restaurant business, in an Italian restaurant in Beverly Hills. He started as a dishwasher, though after the owners discovered that Julian could speak Italian, he soon was on his way up. After that, Chef Julian acquired most of his culinary training as the understudy of Celestino Drago in Beverly Hills, while also completing his degree in Veterinary Science.
Chef Julian left the restaurant business in 1988 to work in the commodity world, and didn't return until 2011. "I wanted to retire in 2011, but food and wine kept popping into my head." It was then that Chef Julian met and teamed up with 35 year restaurant veteran Carl Brandt and together they opened Mio in 2012. Carl Brandt is the Director of Operations for Mio, Mio Pizzeria, and a Leawood event space that will open this May. During their first year at Mio, they served 40,000 guests and continue to open over 600 bottles of wine per month.
"The idea was to build a trottoria style restaurant, which is a second tier Italian restaurant. Knowing that we're not in a destination location we wanted to open a place where people can be close and comfortable with the food and staff."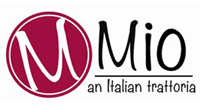 "We're very good at what we do. We use the freshest ingredients, so we have to commit to a one page menu. We are also very committed to the wine experience here. I wanted to keep it great and simple. We have a $30.00 wine list and a $45.00 reserve list and, all of the wines on the reserve list are rated 89 pts or higher by Wine Spectator." I asked Chef Julian, "How do you make any money selling great wine like this at these prices?" He responded,
"I do it to bring in a clientele that really loves wine."
When explaining his favorite items on the menu, like his mussels, Chef Julian said, "Everything on the menu is fresh, authentic, and wholesome. I don't like foo foo." So Chef Julian doesn't dress his dishes up unnecessarily with garnish or use spectacular plate presentations... just great and authentic Italian food.
When you come out to dine at Mio with Chef Julian, you might notice an impressive rack of ties near the bar. Those are actually for the wait staff. Chef Julian's idea, so that no one ever forgets to bring a tie to work. They range in value from $5- $2000 and are all from the Chef's home closet.
Welcome Mio, our newest Kansas City Original restaurant.