Michael Hall
from Gaslight Grill
Posted: 07/2/2014
When you are looking for "Classic American" cuisine, stick-to-your-ribs, no-nonsense meat & potatoes with a touch of flare and impeccable quality, then head to Gaslight Grill and dig in to the menu served up by Chef Michael Hall. It's classic steakhouse style through and through, balanced by a solid selection of excellent seafood options, and bolstered by creative salads and sides. It's definitely an outstanding menu and Chef Hall says what makes it so is attention to classic preparation and very high quality meats and seafood - "that is critical." Steaks are vintage American, certified Angus Beef, and all seafood is flown in fresh daily.
So what kind of training & preparation brought Chef Hall to overseeing such an impressive menu, you might ask? Well, he has a 'Classic American" success story as well. Ten short years ago, right out of High School, he took a job as dishwasher at McCormick & Schmick. One shift the manager pulled him out of the dish room and asked him to fill in for a prep cook who was a "no-show" and Michael proved to be a quick learner, mastering skills and exhibiting the strong work ethic that is essential in high demand kitchens. He was so quick at picking up what was needed to get the job done that his co-workers nick-named him "the sponge" and he moved rapidly from prep work, to cooking on the line, and became a "sous" or under chef.
With all that critical on the job training, Gaslight Grill recruited Michael in 2010 to come be their Sous. Given that it's such hard & often grueling work, we asked Chef Michael what inspired and re-juvenated him. He was quick to reply that "reading recipe books, all kinds and lots of them" was the key for him, keeping him fresh and ready to tackle the kitchen each day. Two favorites, he says, are Irma and Marion Rombauer's classic "The Joy of Cooking" and other end of the spectrum, the rather scandalous expose by chef Anthony Bourdain, "Kitchen Confidential: Adventures in the Culinary Underbelly."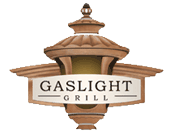 Michael barely looks old enough to be such an experienced hand in a demanding professional kitchen but he is also a devoted husband and father of three, the oldest of which, at 10, professes to want to be a chef like his dad. Being with his family, just kicking back and playing video games is how Chef Michael enjoys his time off. Sometimes he does cook at home, and his son especially likes helping prepare "breaded Tilapia" which is becoming his signature dish.
Chef Michael's favorite food is Wild Copper River Salmon and he highly recommends his preparation served at Gaslight Grill when it is in season. As for least favorite - "not a fan of lamb," he says; but "that's just personal taste."
We wondered what advice he might have for anyone interested in a culinary career given his rise through the ranks and school of hard knocks experience. He recommends, "read a lot of good cooking books, of course; and test it out, part-time at first" as it can be a tough job, but he's quick to add, "being a chef is a great career - lots of variety & flexibility and can be lucrative, too - but most of all it brings a lot of pleasure. You get out what you put in - love in, love out."
So what's the part of the job he loves most? The answer comes quickly, with a big smile: "table touches" - meeting and visiting with guests, which he does nearly every night - that just makes my day!"