Justin Kent
from The Classic Cup Cafe
Posted: 07/6/2017
The KC Originals are proud to welcome not only a new Executive Chef to our family of locally owned, independent restaurants, but also one of Kansas City's iconic and well known Plaza venues, The Classic Cup. Since 1977 this cafe that faces the Plaza's main drag on 47th St. has been serving up incredible dining experiences that reflect its award winning cuisine as well as the casually elegant cachet of its locale. Under the new ownership of Dan McCall and Nathan Stamps who launched District Pour House in Waldo in 2015, we are confident that The Cup, as it is affectionately know, will continue to be a staple choice of Plaza diners.
One reason we are certain of future success is the steady and experienced hand of their Executive Chef, Justin Kent. A native of Springfield, MO, Chef Justin is a graduate of the culinary program of the Ozarks Technical College and has served apprenticeships with Debbie Gold at The American here in Kansas City and with famed Thomas Rice at Tete Charcuterie in Chicago where he had opportunities to hone his technical skills. But patrons of Classic Cup will recognize him as no stranger to their kitchen as he has spent most of his culinary career soaking up knowledge from his predecessor at the Cup, Michael Turner. One thing that diners can continue to expect under Chef Justin's management is a dining experience that is "comfortable, familar and approachable" even as he works to "modernize the menu" and present what he calls "elevated comfort food."
As examples he told us that two items currently on the menu reflect that approach. One is the 14oz bone-in Duroc Pork Chop [our featured recipe] that is cured for 4 hours and served with corn meal fritters and a smoked chile and maple syrup glaze. Another of his favorites is the Brook Trout, dredged in corn meal and fried in a cast iron skillet, then paired with local fingerling potatoes and a veggie slaw. We are sold. Of course, the Cup will also continue to serve great Kansas raised beef steaks.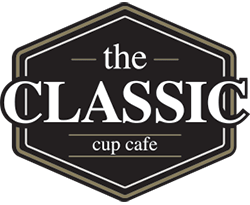 Among the changes Chef Justin foresees is a greater emphasis on the dinner program. "The cup has always been known for its Breakfast menus as well as for great brunches on the weekends and of course, lunch; but we also want o be known for incredible dinners. And those will be focused on wine." With an extensive reserve wine list and many other exceptional choices in stock, Chef wants to create a dinner menu that pairs up well but doesn't break the bank. He rattled off a list of wine specials that span most of the week: "Un-corked Mondays" [trade in used corks for discounts]; "Table Wine Tuesdays" [special bottle prices]; "Reserved Wednesdays" [25% off bottles under $150]; and "Take Flight Thursdays" [three - 4oz pours for $12]. Check with them for specific details but sounds like a great plan. Combine that with Sunday Industry nights and a Sunday Supper Menu [under $20 average] and we'll be checking it out soon.
Chef says he is not really a workaholic, but admits to spending many hours at the restaurant - "after all my heart is in the place!" However, when not working he loves spending time with his wife, working on his house, taking care of his 3 fur babies, watching old Westerns and dining out in KC. His favorite food choices usually involve "anything Pork." Oh, and "beer - hoppy and soapy."
We asked him to share a last word with us about something surprising or important to know about Classic Cup. He reminded us that one of the Cup's best loved features is the outdoor seating [the sidewalk on 47th St. and the back deck] and gave us a heads up about the expansion to the back deck space - lots more room to wine and dine al fresco. And, he says, "the very best thing about The Classic Cup is that they are one big family, with a huge heart - caring about co-workers, guests, and the KC community." Sounds like they are a perfect fit for the KC Originals family - welcome aboard!